This page was last updated on: February 18, 2016
PALISADES APPALOOSAS

Mitch and Lisa Estridge

1601 Bowman's Bottom Road Lancaster, KY 40444

(859)-338-7955


ApHC #503595     2001 red roan FewSpot Stallion      eeAA LP/LP   

Dreamin Dun  offers a live COLORED foal guarantee.

His few spot coat pattern promises color and/or Appaloosa characteristics on all offspring, even with solid and non Appaloosa mares.

Junior's foals have had some of the most outgoing, friendly personalities of any I have had. 

A clean culture, negative coggins and up to date vaccinations are required. 

The mare must be able to stand tied as well for safety reasons for hand breeding.

a few of "Dreamin Dun"  foals

Dressed in Diamonds

out of Annies First Lady

Dreamin Dun spent the 2004 season training and

showing at Bright Horizon in NC.  He accumulated many first place ribbons in both Open and ApHC shows as well as National and ACAAP points.He qualified for the 2004 World Show.   Junior also began his training under saddle in Western Pleasure. Junior shows potential for reining and cutting as well as pleasure.Dreamin Dun appears twice in the book "The Legendary Appaloosa" , published in 2007.  3/4 of this foals are fillies, and many have wonderfully

gentle dispositions to go with their exceptional conformation.


Junior is pictured here at five years old. He has a homozygous coat pattern that promises color and/or characteristics on all offspring. He has produced over 40 colored foals in eight seasons.  Among them are red roans with white blankets, bay leopards, red and bay fewspots, snowcapped and spotted blankets. 

Most notable about Junior's foals are their friendly dispositions and muscular bodies with pretty heads,They are worthy of the show ring while suited for trail, pleasure or cattle work. .

Hypp n/n,  GBED n/n,  MH n/n

Pssm1 n/p1  HERDA n/n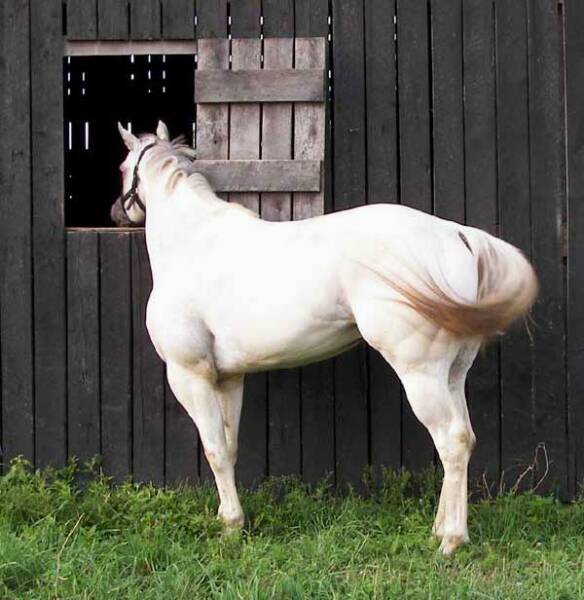 Son of APHC Hall of Fame Sire "Dreamfinder"

l5.l hands

1200 lbs.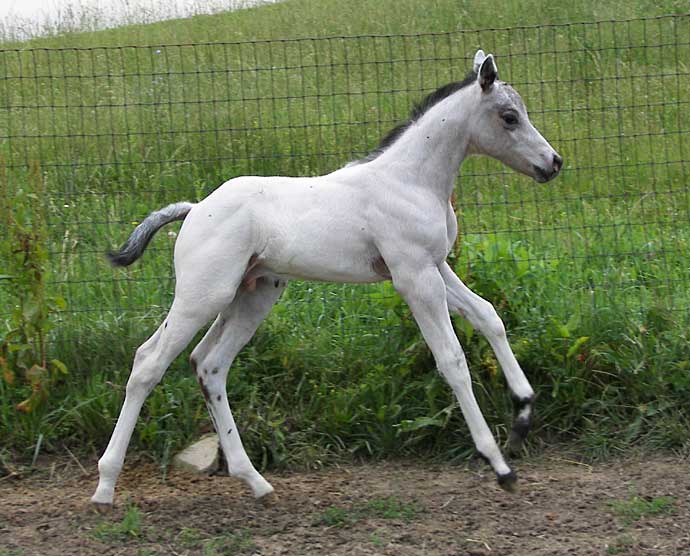 Bold Amigo,  bay fewspot stud out of Perpetualmotions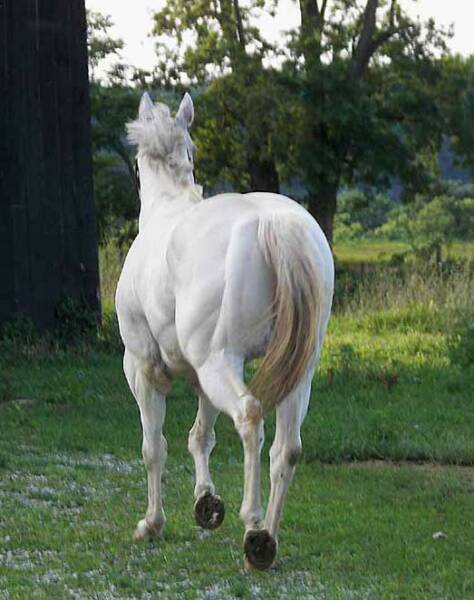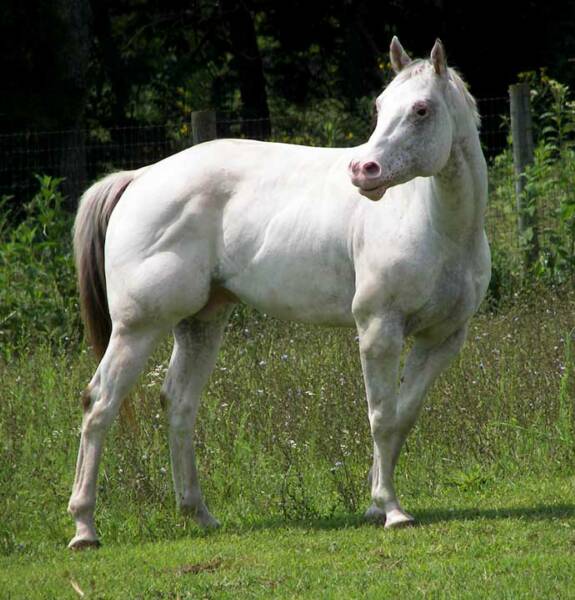 Flapjack! bay leopard colt out of  a black leopard mare,  "Brook"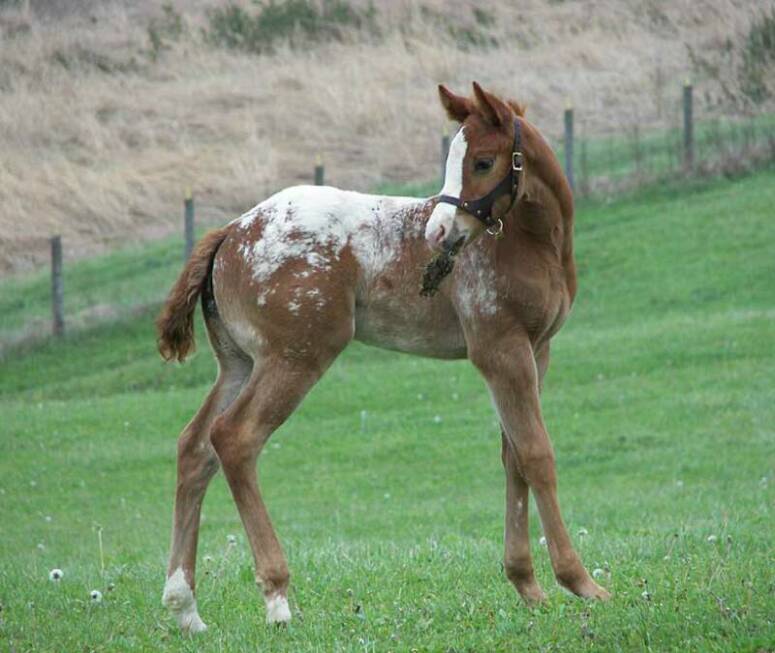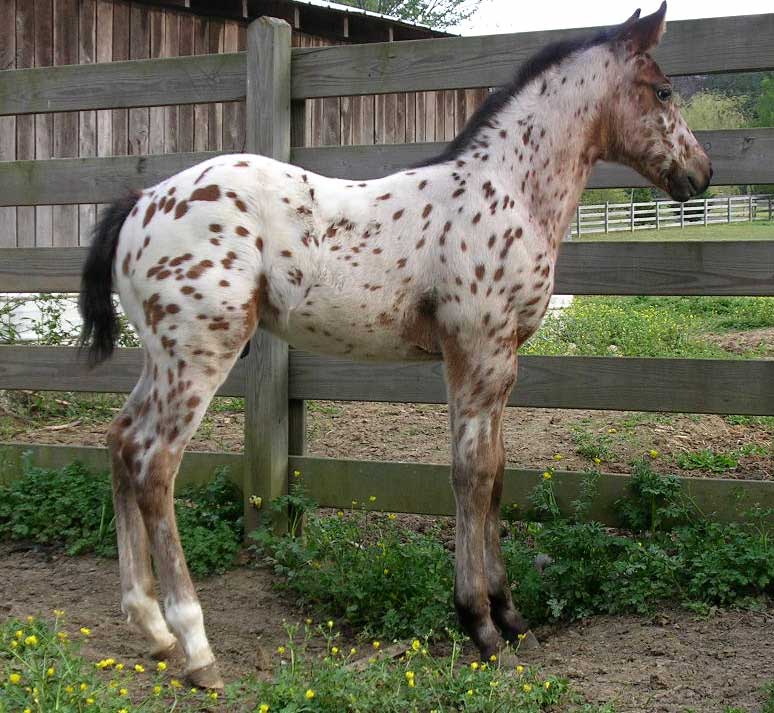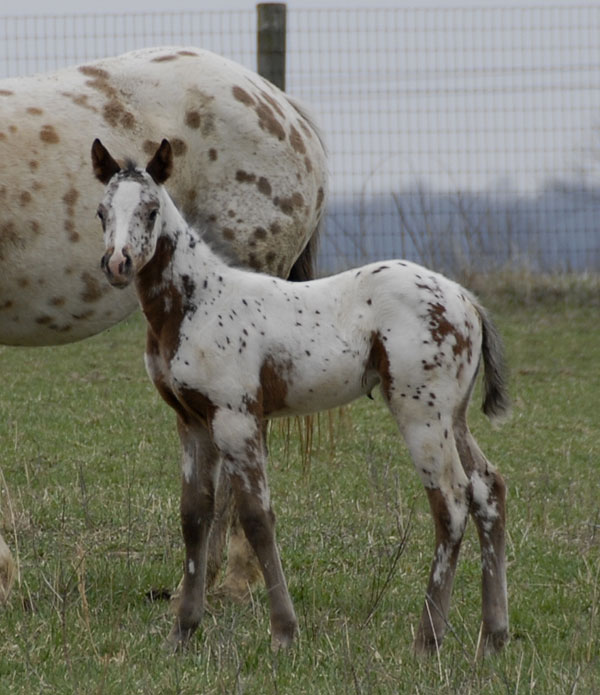 Dinah,  bay near leopard 08 filly out of Shoemakes Fancy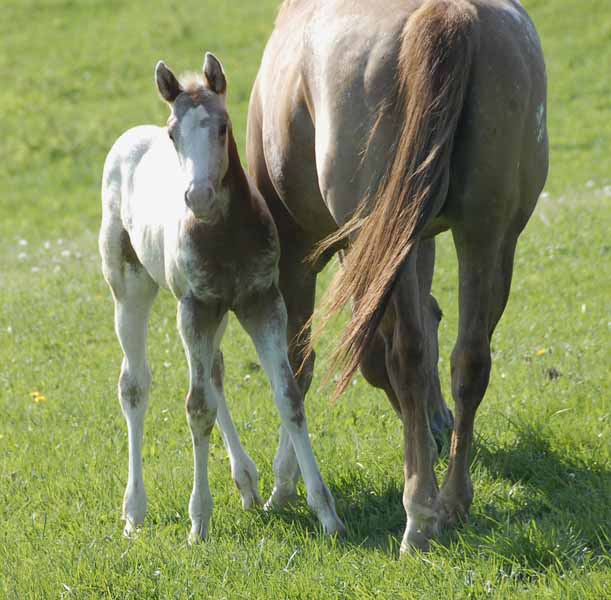 Whisper in my Dreams,  fewspot filly

out of Annies First Lady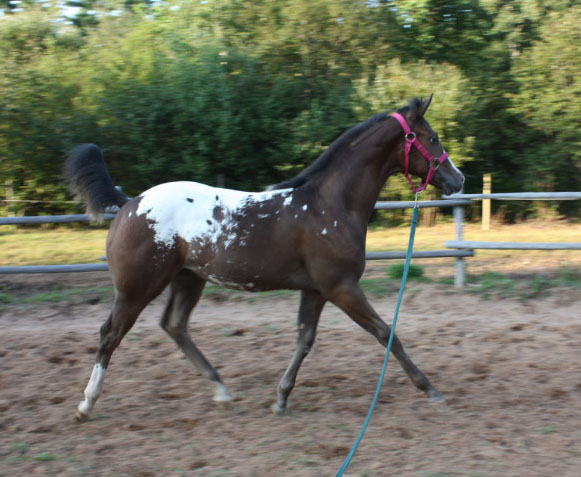 Vision of Dreams

bay filly out of Vision Made

Dun N Faith,  colored palomino

filly out of Brother's Hope

3 futurity winner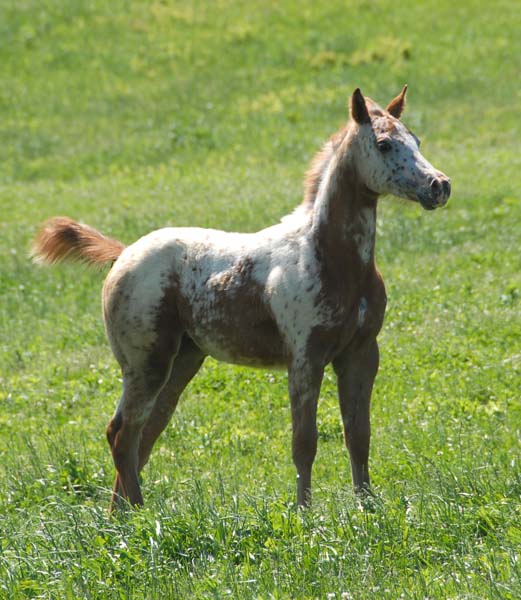 Dreamin Red Cloud, "Pepper" filly out of Kitty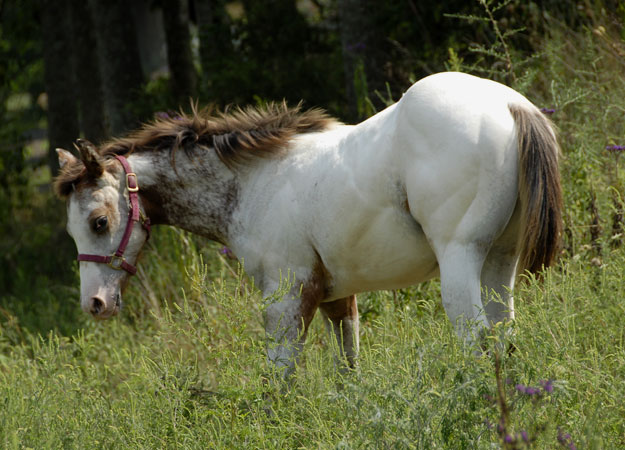 Patches of Color, a Dreamin Dun son born at Rockin E Stables in KY.

Many of Junior's offspring have exceptional dispositions.  Patch is one of them and is showing that calm nature in his training as a three year old.

His trainer at High Trail Arabians could not say enough about how nice he has been to work with.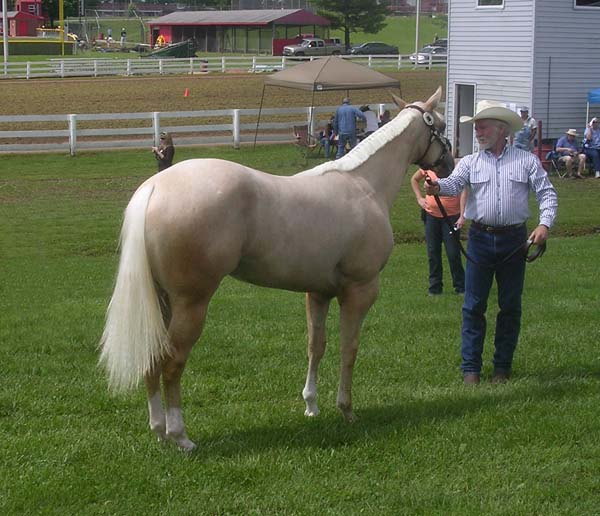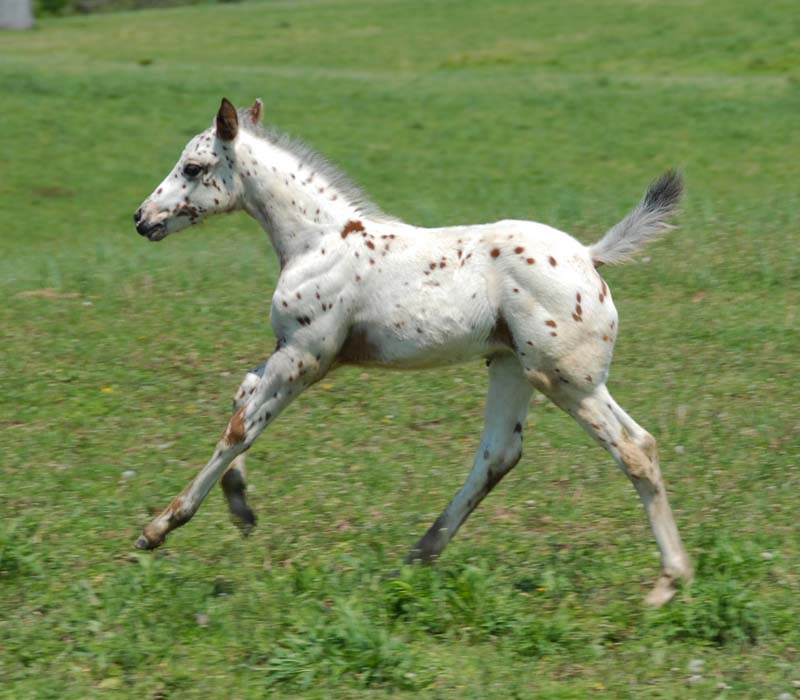 2011 Filly, "Heather"

out of Jessicas Miss Kitty and Dreamin dun

2013 Red leopard filly, Emma,

  out of Earthlight Cowgirl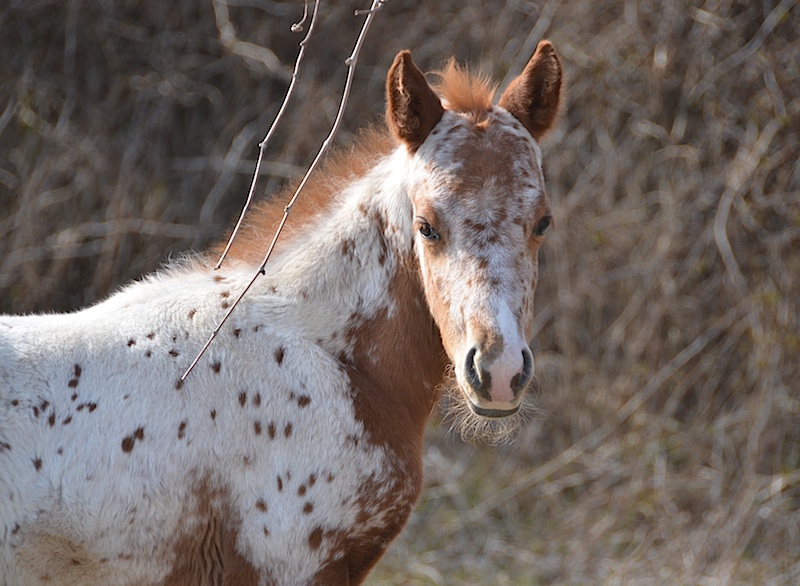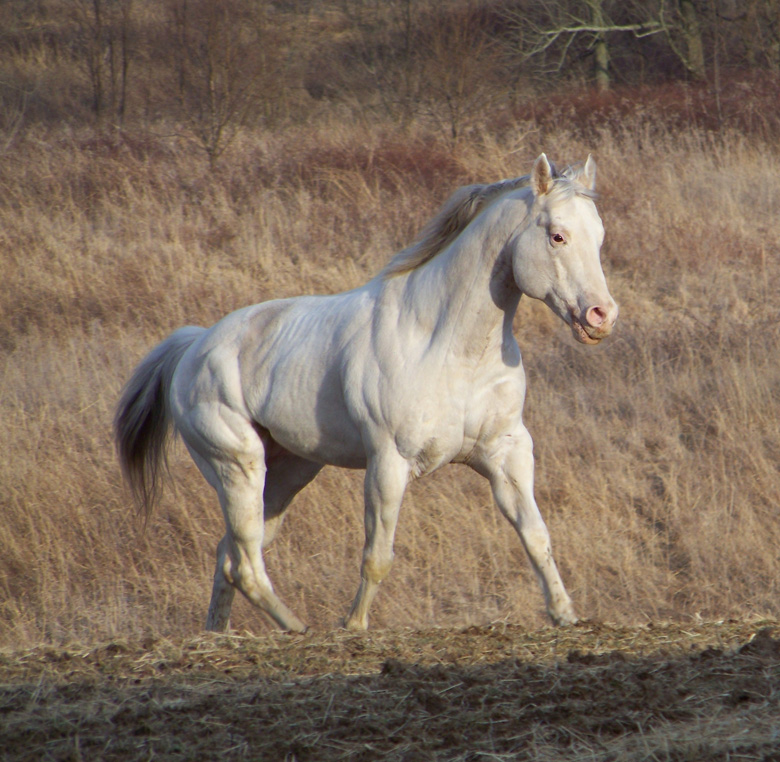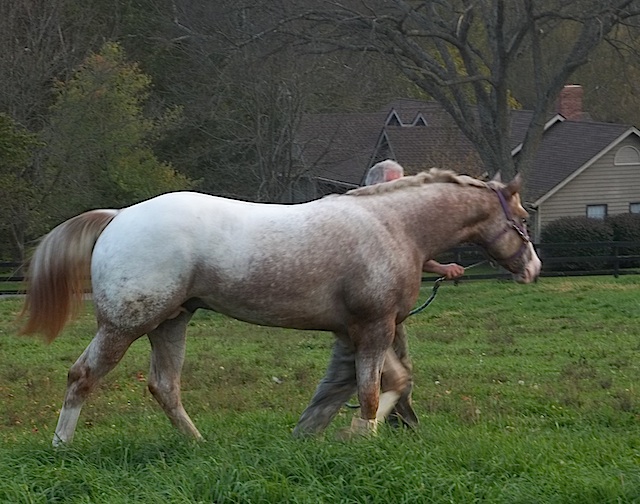 Awesometastic,  Snowcap stallion raised by Greg Beasley

                 Dam is Brother's Hope